The Circuit of the Americas proved to be a challenging place for Iker Lecuona and Danilo Petrucci from day one as they have been struggling especially on the bumpy surface with their KTM RC16. Yet, both tried to make the best of it and eventual saw the chequered flag after 20 hot laps on Sunday.
Lecuona, who had started from P17 on the grid, moved back and forth in the first laps until he settled close to the top 15 around halftime of the race. He managed to bring P16 over the line and missed out the points by 2.934 seconds. Likewise, Petrucci tried his best to stay upright, made up a few positions at the start from P21 to be in 19th on lap six. With a pass on Franco Morbidelli, he eventually secured P18.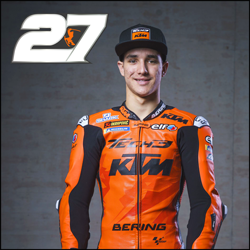 Position: 16th
Championship: 18th
Points: 38
---
"It was a very difficult weekend in general. I don't feel good with the bike in these track conditions, so I struggled a lot. In Warm Up this morning, I was alone and my pace was pretty good to fight maybe even close to the top 10. But in the race, on the first lap, some guys hit me two or three times in the first corners, so I was far back. Then I tried to recover, but I used a lot of rear tyre in the first laps, so I didn't have any grip anymore. In the last 10 laps I tried to recover the gap to Rossi and I made up almost three seconds, but then he improved a lot as well. It was very hard and finally we didn't get any points in P16. But we gathered experience. We learned a lot during this weekend and I think now I have two weeks to recover and be fit for Misano two."
Position: 18th
Championship: 19th
Points: 37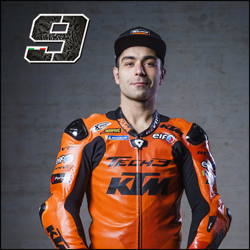 ---
"It was really a difficult race. I tried at the beginning to stay with the others, but we faced the same issues like all weekend long. It feels like I can't really use the tyre properly and my bike doesn't turn like I want it to. I lose a lot of energy on braking in order to try to stick with the rest, but then also in the corners I was slower and in trying to be faster I risked crashing many times. On the last lap, I was really blocked with my back. I was riding all the race with a lot pain. It was very difficult. Anyway, we tried and we will try again in Misano."
---
"
Another very frustrating weekend for the Tech3 KTM Factory Racing team. This time, Iker didn't get an ideal start, which is usually something he does quite well. It took him some time to gain a few positions and we were happy to see his progress. We were hoping that finally we could score a few points, which was the target. But again, as it happened quite often, I believe Iker made a mistake halfway through the race and he lost quite a lot of time and a few positions. Although he recovered and was going faster than the guys in front of him, he never managed to catch all of them. He ended up 16th, which is again the worst possible position. We would have been happy to score a point with at least one of our two guys. It's frustrating and a Déjà-vu. Consistency is what we have to work on and this is the target for the next races."
"Danilo had an ok start this time, better than his teammate. But soon we could see that the pace was dropping and he managed to finish the race, but there is not a lot to say. For many reasons he was just not in the place to be able to target to score a point. I know our two guys tried and pushed, but at the moment this is not enough. Let's hope things will be a bit better next time in Italy for the second race in Misano.
"