Tech3 KTM Factory Racing's Iker Lecuona, who started the 13th race of 2021 at the MotorLand Aragón circuit today from P13 on the grid, once again delivered a rocket start. He made up three positions already on the first lap and battled his way through to seventh in the course of just a few laps. He showed great potential with lap times that equaled the top. Yet a mistake made him fall back to P11 with five laps to go, which he finally brought over the line.
In the meantime, Danilo Petrucci came from 16th place, crossed the line in the same position after one lap and improved his rhythm lap by lap. Thereby, the Italian likewise showed a strong race. He went up to P15 with eight laps to go and managed to bring the single point home after 23 intense laps under the Spanish sun.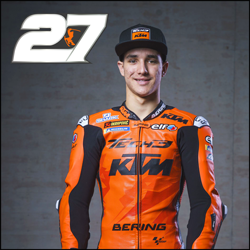 Position: 11th
Championship: 18th
Points: 38
---
"I'm happy on one side, as I did a very good race. The pace was unbelievable! I did some mistakes and especially one in corner eight, where I lost many positions back to P11. I tried to recover, but after I had hit my shoulder very hard in my crash on Friday, I was working with the crew of Clinica Mobile to feel better, but it made me struggle on the last laps. I still kept pushing and recovered almost two seconds to come back to that group. I even tried to pass Nakagami to finish in the top 10, but it was impossible. It's still ok. I'm very happy about this weekend, I worked well. Thanks to everybody, who believes in me; to my family, my manager and also thanks to the team, that always works very well."
Position: 15th
Championship: 19th
Points: 37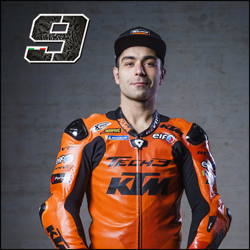 ---
"In the end, we managed to score one point, even if the race was really difficult. It was impossible for me to overtake and even stay with the pack, as I couldn't get passed anyone and was slower into the corners. Two times, I almost hit a rider in front of me, then I started to push and push and push, but I struggled all the race with the front tyre, as it was very hot. Unfortunately, I did some mistakes. At the end we scored that point, which is ok. It was really tough with that long straight here, but we did our best."
---
"
I believe it was a really strong race from our two guys, for sure especially Iker. He had a great start and he was clearly inside the top 10. We were very proud to see him being the leading KTM rider for most of the race with Brad (Binder) just behind him. Unfortunately, when everything is so close, you can't afford to do any mistake and he did a very small one, that cost him dearly."
"He went from P7 to P11, which was a shame. But still I would like to thank Iker, because he has been pushing all weekend long, he has been showing a positive attitude and a great fighting spirit. There is more to come in the next few races. Overall, it was a strong weekend. When he came to the garage, he was really pissed off, which is the sign of a champion, so just a few more days and we are in Misano and we can push again to try to do another strong race."
"Danilo didn't get such a good start, but still kept his head down. He was doing interesting lap times, but unfortunately, the pace was very similar among the whole grid. He managed to pass quite a few riders, including Johann Zarco. He ended up in P15, which means our both riders are in the points. This is a satisfaction, but of course, both Iker and Danilo wish for more and we do as well. Anyway, let's pack everything and move to Misano, where we can challenge again and hopefully have our two guys in the top 10.
"