The final day of testing in 2019 saw Red Bull KTM Tech3's MotoGP rookie Iker Lecuona finishing 20th after 26 laps.
Following some dry time this morning, where he went slightly quicker than on day one, the rain arrived at the Circuito de Jerez at lunchtime, cutting the proceedings short, but at the same time delivering an interesting chance to Lecuona to go out on a wet track for the very first time in the MotoGP category.
Position: 20th
Time: 1:39.880
Laps: 26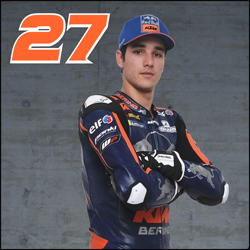 ---
"It was my first time in wet conditions and to be honest, it was quite strange. I need more laps, but finally I went quite fast. I liked the feeling, although I didn't find out the limit in every point. I'm happy, but with some sectors not too much. For next year, I know that I need to improve in all the points, which is clear as long as you are not finishing first. I need work on my riding, on the brakes and picking up the bike, but finally in the wet it all went quite well and in general, I'm very happy."
---
"It was the final day on track for the Red Bull KTM Tech3 MotoGP outfit in 2019. We would have hoped for better weather in order to continue the learning process with Iker and in order to have more data with Dani Pedrosa, which was an important mission, but you know, we can control a few things, but for sure never the weather. Still, I think it was quite good we had the chance to do quite a few laps with Iker on the wet and I have to say that I was really impressed. I don't know if it's the Supermotard experience, but he likes the Michelin wet a lot, he likes the KTM RC16 a lot on the wet and I think he had a lot of fun and the lap time was really good, too. So, this was not a wasted day. Outside of that, we saw that the three rookies in the MotoGP class are quite fast and I believe that there will be an interesting fight next year. Sure, Iker will be full on to fight for the crown. Now it's time to wish everyone a good winter break, a Merry Christmas and a Happy New Year. Thank you to the whole team! Let's have a good rest and see each member full of energy and well rested in Sepang."