This week Red Bull KTM Tech3 is back on track at the Circuito de Jerez with Iker Lecuona further testing the KTM RC16, after he made a successful debut at the finale Grand Prix of the season 2019, plus showed some more progress during the official Valencia test last week
The Spaniard completed another solid day, being at this venue for the first time in the premier class, lapping the track 38 times with a fastest lap of 1:39.933 minutes.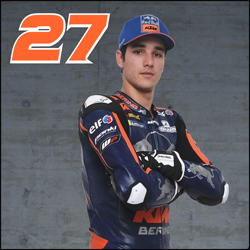 Position: 20th
Time: 1:39.933
Laps: 38
---
"Jerez is a very difficult track on the MotoGP bike, it's not easy to go fast here and have a good feeling on the bike. For sure, I need more laps tomorrow in order to get more kilometers in. At the moment, I finished 2.802 seconds from the top, which is obviously too much. After the crash, I feel a bit bruised, but overall, I'm ok. This circuit is definitely completely different to what we had in Valencia, so I need to further adapt myself and I can't wait to be back on the bike tomorrow."
---
"This was an early end of day one in Jerez for the Red Bull KTM Tech3 team. Already this morning, we understood that Dani Pedrosa was not at his best, was feeling quite sick and said that he will try to stay calm in the morning and eventually come back in the afternoon, but it looks like that didn't work and he is still trying to recover, so hopefully he'll be testing tomorrow, although the weather forecast is not very positive for Tuesday. On Iker's side, everything started quite well. The weather was cold without any rain, but quite a lot humidity in the air and we started with the soft option tyres, just slowly to try to understand the Jerez circuit, which is very demanding, very tough to learn and to go fast with the MotoGP bike, plus quite different to Valencia. Until the lunch break, everything went very well, each single run was quicker than the one before and we ended up breaking the 1:40 barrier, which was good. Unfortunately, straight after the lunch break, Iker was on his third lap, I believe, and did a very slow lap and then followed another rider the lap after. But when it's like this, the tyre temperature drops quite a lot in this weather condition and on the first left corner, which is turn four, he crashed. He is a bit bruised everywhere, but nothing is broken, so he came back without any physical consequences, the bike is not too damaged, but all together we decided to put an end to the day. It's always a pity to do not as many laps as you could have done, because we know it's the last test of the year and Iker is a rookie. But anyway, we did a few interesting laps and hopefully tomorrow we can stay away from the rain and have two riders on track, enjoying their very last 2019 day of testing before going for a well-deserved break. So, let's wait and see tomorrow."